What is it about swimwear that often sends us spiralling? And why is body positivity such an important topic for swimmers? In the run up to her 'Body Kindness and Swimsuit Making' workshop this April, we spoke to Body Image, Mindset and Blue Health Coach, Claudine Nightingill-Rane about how she brings water and swimming into her practice.
Amanda Bowden (AKA The Swimming Seamstress) and Body Image, Mindset and Blue Health Coach Claudine Nightingill-Rane have teamed up to bring you a 'Body Kindness and Swimsuit Making' workshop this April. The two-day workshop will see participants sewing their own bespoke swimsuits that are beautiful, functional and fit, while having gentle conversations around body image and mindset. In the run up to her course, we spoke to Claudine about how she weaves water and swimming into her work around body acceptance.
Please can you introduce us to Seascape Blue and tell us more about the work you do?
I am a Body Image, Mindset and Blue Health Coach; I work with women, girls and anyone who identifies as such to help them feel happy and healthy in their body by changing their mind, not their body. I help people move away from diet culture and the mindset that our looks and our bodies are the most important thing about us, and shift their perspective towards self acceptance, body kindness and self compassion.
The initial focus is on our bodies, because so many girls and women have such a difficult and negative relationship with how they look, their weight and size etc. And this can have a detrimental impact on every area of their life. So by learning to feel more neutral or positive towards their body, this impacts on all aspects of themselves – work, social life, relationships and overall confidence.
As a Blue Health Coach, I help people benefit from being in the blue spaces your readers all know and love. Being in, on, or near natural water, as we all know it makes us feel amazing, but there's also a great deal of science to explain why. When I coach in person I do so at the beach or in the sea or from a beach hut as it gives such a different energy and frame of reference to the client enabling them to see things very differently.
How do you use water and swimming in your practice?
As a sea swimmer in Hove (near Brighton) for the last five years, I am an utter convert and I know what a positive impact the water has had on my life, my mental health and my body image. Helping my clients get in the water, or simply having the coaching conversations by or in the water enables them to acknowledge how hard their body works for them. It often enables them to overcome fears (such as open water or the cold) and can create a sense of self autonomy and confidence that fear is the only thing standing in the way of their goals and dreams, which then can be applied to other areas of their life.
It's also a distraction from the tough conversations. We can talk about something really profound and totally change someone's negative beliefs about themselves. They might come to the end of the coaching session and say: "We've not really done any coaching today, have we, but we've had a lovely chat?". And I'll ask them to reflect on the challenge they arrived with, and there will be a big lightbulb moment.
There are people in bigger bodies in good health, and people who are slim who are in poor health. You cannot look at someone and know how well they are or how long they are likely to live! ~ CLAUDINE NIGHTINGILL-RANE

How do you think the culture we live in impacts our body confidence?
Sadly, I feel it's almost inevitable that growing up in our society today will have a damaging impact on how people feel about their bodies. Things are slowly changing but we live in a world that is fatphobic. We are surrounded by images of people looking a certain way and we're given the message that we have to look a certain way to be beautiful, and we have to be beautiful to be worthy and desirable.
These messages are strongest for women, but definitely impact on men as well. There is also the narrative that being fat – and I use that word deliberately as a neutral descriptive term – is automatically bad for our health but our bodies are way more complex than that. There are people in bigger bodies in good health, and people who are slim who are in poor health. You cannot look at someone and know how well they are or how long they are likely to live!
Almost everyone I know currently has, or has had in the past, parts of their body they hate, or the desire to lose weight or change how they look, or feel they don't exercise enough or the right way and think this makes them lazy. I am quite surprised when I meet women who say they've never had an issue with their body, but then they go on to discuss which diet they are on this week. It's so engrained we don't even see it on ourselves sometimes.
How did you come to work as a life coach specialising in body image and blue health?
After decades of dieting, disordered eating, and other unhealthy behaviours to make myself slim, I realised what a toll this was taking on my mental health. I realised I had a choice to continue yo-yo dieting and hating my body (except when it was at its smallest) and sacrificing my wellbeing chasing an unsustainable goal. When I had my eyes opened to the fact that all of this was a choice, and it was possible to accept and like my body no matter its size, it changed everything.
My confidence increased, I learned not to care so much about the judgement of others and was able to live my life how I wanted, not trying to meet everyone else's unrealistic standards. Around the same time I discovered sea swimming and learned a whole new level of appreciation and respect for my body that could get into freezing water, battle waves and swim miles down rivers. So when Covid stalled my training business, I decided to use my coaching qualifications and pursue this work which has now become my life's mission.
How does it make you feel when your clients gain confidence and acceptance through working with you?
Incredible. I feel like I am finding a new layer of my own acceptance and self love, each time! Especially working with girls, knowing that I have helped them see themselves differently and helped build their resilience to ensure they won't go through life hating and trying to change their body the way I did; if I can save at least one person from that heartache, it has been worthwhile.
I particularly love it when I hear people I've worked with chatting to each other, sometimes years on, encouraging them to give themselves more self compassion and acceptance. The ripple effect of this work is so powerful. Hence my work with mothers and daughters has a multi-generational impact which is so powerful.
What is it about swimwear that often sends us spiralling?
Oh, swimwear! So tight, so exposing, so revealing! I used to hate buying it; it was either frumpy and covered up everything, and left me with swirls of fabric floating around me when I swam, or skimpy and showing far too much flesh, so I'd have to cover all my 'flaws' with a sarong anyway.
Nowadays it is a bit easier to find well fitting, functional swimwear that looks good and feels great. We look at ourselves in the mirror and we can see every lump and bump that we have been taught to see as flaws and faults. But it all comes down to your mindset, you have to learn to give less of a damn what others think, and realise they probably aren't thinking about you anyway as they're too busy worrying about what they look like! But what could be better than making your own swimsuit with your choice of fabric and getting it to fit perfectly, whilst surrounded by like minded women, chatting about how to feel better about our bodies?
Why do you think body positivity is so important for swimmers, in particular? How can poor confidence hold us back (or even stop us getting to the pool in the first place)?
So many people, particularly girls and women, don't swim because of how they feel about, or how they think they look in swimwear. Nice, functional swimwear in bigger sizes is hard to find, (similar to the fact that people in bigger bodies are criticised for not exercising but they can't find decent work-out gear, and then if they do they get shamed for wearing lycra!).
We all know that they are missing out on so much by not swimming: exercise, connecting with nature, having fun, finding their community, adventure, discovering their abilities, pushing their comfort zones, and maybe missing out on a fun activity with their children. You can't hide in a swimsuit, and some women say that even though they feel OK once they're in the water, the walk from where they get changed to getting in is just too much. If people in bigger bodies enter swim events, there are plenty of assumptions made about their experience and ability as Ella Foote has written about, so some women would rather not bother.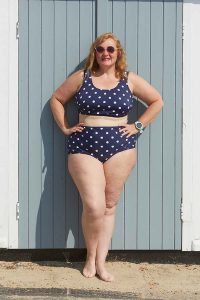 For people who haven't heard of her, who is The Swimming Seamstress?
Amanda Bowden is a marathon sea swimmer, a very experienced textiles and sewing instructor and an all-round joyful human being! We discovered each other during lockdown via social media and I knew I wanted to work with her. We had a meet up – in the sea of course – and came up with the idea of hosting a workshop to enable folk to sew their own swimsuit, which Amanda has been hosting for a while, and combining it with body image support and coaching. Amanda has been teaching swimsuit workshops for a while after making her own for a 10K swim, and people started asking her to make them a cossie. So she said no, come and make your own!
Please can you tell us some more details about the upcoming 'Body Kindness and Swimsuit Making' workshop? How will it feel different from a usual sewing course?
Whilst the participants are busy sewing their suits, we will have some gentle guided conversations about why we have been made to feel rubbish about our bodies and what we can do about that. It will be really relaxed and informal, but a great opportunity for people to chat (if they wish) about things that are often taboo, as the pressure is to make small talk about our diet or how 'naughty' we are for eating a piece of cake, but that often covers up the unspoken guilt and shame about food and our bodies.
But we want everyone to celebrate themselves exactly as they are, because all bodies are good bodies, all bodies are beach bodies, and all bodies are bikini (or swimsuit) bodies! So they will leave the workshop with a fabulous bespoke swimsuit they've made with their own fair hands, that is functional and fits, and with a newfound respect and acceptance for their marvellous bodies and themselves, and (knowing Amanda) aching cheeks from laughing a lot!
Will the two-day course end in a dip?
Of course! Optional and conditions permitting, we will head down to the sea for the swimsuits' maiden voyage!
Amanda Bowden (AKA The Swimming Seamstress) and Body Image, Mindset and Blue Health Coach Claudine Nightingill-Rane have teamed up to bring you a 'Body Kindness and Swimsuit Making' workshop (£230), 10am-4pm, 15-16 April 2023. Claudine is happy to recommend accommodation and places to eat in Brighton & Hove so you can make a weekend of it.
Discover more about Seascape Blue and Claudine's work as a Body Image Mindset and Blue Health Coach. Read about Editor Ella Foote's experience sewing her own swimsuit with The Swimming Seamstress, Amanda Bowden.
By Jo Tinsley