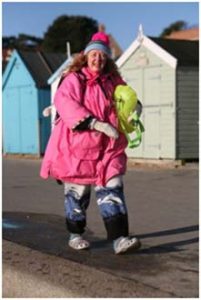 When my daughter was about 12 we went on a shopping trip. It was at the time when 'onesies' had become insanely fashionable. We found ourselves in the changing room of a popular, discount, fashion retailer. Armed with handfuls of clothes she was having a marvellous time. I was her assistant, passing clothes to her, putting them back on hangers, constructively commenting on fit and colour choices. I hadn't brought one garment into the changing room, from experience I knew that I could take a standard t shirt or cardigan and it would fit but dresses, skirts and trousers were not cut or sized to flatter me from this particular retailer. As a dressmaker it didn't really bother me as I have the skills to make myself lovely clothes but I did feel a little like an observer in the 'feeding frenzy' of the changing room. Action was required. In this store the sleepwear, leisure wear and lingerie are closest to the changing room so I went searching for something to try on. I distinctly remember the moment I saw the strawberry onesie; red in the body with embroidered seeds. It had a splendid green yolk for the leaf and a comfy hood. I picked up the largest size, 22-24, marched back into the changing room. I emerged to show my daughter, it was comfy, it fit me, I could afford it. I wanted to lie about it and pretend to be a splendid berry. Although I didn't seek the approval of my daughter, it is lovely to receive positive praise from people you care about. She came out of her changing cubicle and her jaw just dropped open. 'Mum, please don't buy that. You look like a fruity telly tubby', she stated, with such a look of horror and embarrassment on her face. I simply couldn't do it to her. My confidence and desire for the strawberry onesie were very short lived. I think I bought myself some novelty socks as an emotional, cheer up purchase.
Fast forward, a decade later and I would like to introduce myself.
My name is Amanda, I am a proud onesie maker and wearer.
I thought you might enjoy some info about my latest onesie make.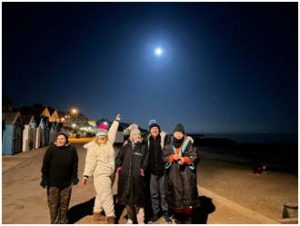 So, as an open water, all seasons sea swimmer, warmth and comfort in pre and post swimming clothing is paramount, dare I say, more important than the aesthetic qualities of an outfit. However, having said that I see plenty of bobble hats matching dry robe linings. There are careful choices made in sock and croc colours and Jibbitz (did you know you can add 26 charms to a pair of crocs). Swimming caps co-ordinating with tow floats and cozzies, sympathetically selected mittens and snood combos, similarly patterned or coloured flasks and mugs is not unheard of. Care is taken within the world of open water swimming in the selection of clothes for both practical reasons but also there is a 'fashion' in the sport. It's pretty easy to spot a congregation of open water swimmers.
I have made 4 onesies. A fine leaping dolphin fleece was my first (as pictured in the introduction), followed by a polar bear onesie made from 'cuddle' bed throws with a stuffed muzzle, eyes and perky ears. A third has been made in a shark print, lightweight cotton jersey used when camping for sleeping in (no drafts) and my fourth, finished last weekend. Here I am modelling it on Felixstowe promenade before a refreshing winter swim. I am also wearing a me-made pair of flip top mittens, lined bobble hat and polar bear fleece lined neck warmer.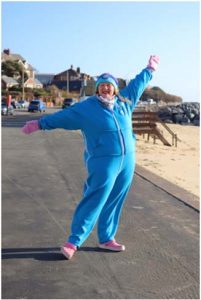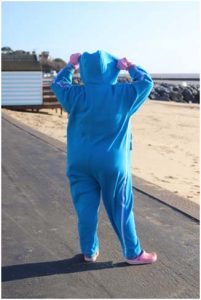 Here are the vital statistics for the onesie I made.
Pattern; Kwik Sew 2175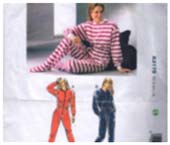 Unfortunately the 2175 appears to be out of print so I've had a root around and found Kwik Sew 3712 which looks extremely similar. It features a stud/popper front which can easily be replaced with a zip or Velcro closure.
This onesie has an option for a fitted waist, achieved with an elasticated casing inside. It has in-seam pockets and you can also add foot covers. Cuffing is used at the neckline, sleeve cuffs and at the end of the legs. It doesn't have a hood. I used the hood pattern from the STELLA hoodie pattern featured in the most excellent book 'STRETCH – Tilly and the Buttons'. It fits a treat onto the neckline of this onesie and is a great, spacious hood which can be worn over a bobble hat.
https://www.tillyandthebuttons.com/2018/03/stretch-stella-hoodie-joggers-sewing-pattern.html
However, if you wanted to have a pattern that includes a hood then these patterns look very good. Both of them feature a raglan sleeve – when the sleeve travels to the neckline without a defined armhole. The Burda 6397 pattern has kangaroo front patch pockets, a hood with cord and an optional waist shaping casing. Neither of these patterns have in-seam pockets, or foot flaps. You do get a broader range of sizes with the Simplicity pattern as well as a dog version.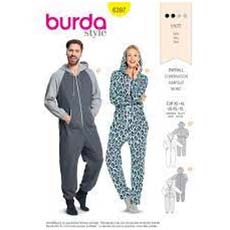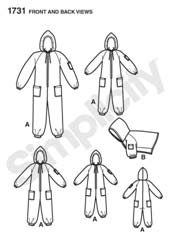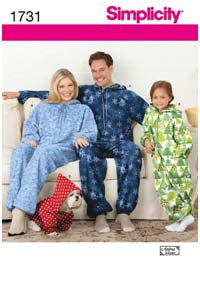 Fabric: the fashion fabric I used is a plain sweatshirt from Poundfabrics. The fabric composition is 75% cotton, 25%, it has a fleece like finish on the reverse, the weight is approx 340 gsm (grams square metre) and it's 70" wide. £7.00 a metre and available in 12 colours. I did wash this fabric first and tumble dried it as this is how I would like to launder my finished garment and wanted to avoid any first wash shrinkage.
https://poundfabrics.co.uk/products/sweatshirt-fabric?_pos=1&_sid=6ed61d5cd&_ss=r
Decorative tape: Vintage Trim from Swagman's Daughter. 2.4 cm wide, £2.00 a metre, also available in purple/white. You can find a wide variety of striped tape on haberdashery sites. It's a good idea to wash it first as it may shrink and pull the onesie out of shape. I ordered 5 metres for my onesie which was plenty. I double stitched, on the sides down the outside of the sleeve and from the armpit to the trouser hem on the outside leg. Remember to tuck the edges under to reduce fraying and create a tidy finish. I also used it as a decorative tab on the base of the zip. I have also seen lovely, commercial onesies who use tape very decoratively on the hoods.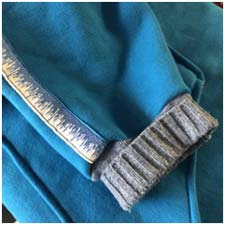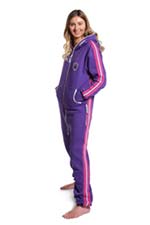 https://theswagmansdaughter.com/products/copy-of-sweet-vintage-hearts-and-flowers-trim-1-8cm-wide?_pos=8&_sid=354896602&_ss=r
Hood, pocket lining and cuffing: I had purchased some beautiful, organic cuffing to use but the colour was very different from what I was expecting so I'll save it for another garment. Thinking on my feet, I realised I could upcycle a merino wool gentleman's jumper which I had purchased from a MIND Charity shop £3.00. I used the cuffs of the jumper for my sleeves, the top of the sleeves to line my kangaroo patch pockets and the main body of the jumper to cut the hood lining.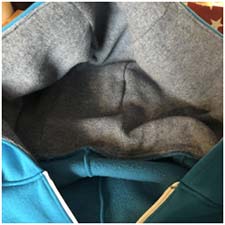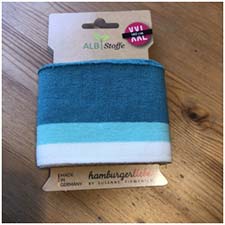 Zip: I found this NIKE zip in my zipper stash which I've had for many years. You will need a 30"/70 cm chunky toothed zipper. These tend to be open ended (i.e., you can separate the tape completely) and come in many colours. However, if you can get a closed end it's easier to manage on this garment as you don't require it to separate around the crotch area. You'll see that I added a decorative tab of trim on the outside to stop the zip separating at the bottom. I also added a half circle of additional fleece to cover the inside of the zip as it felt uncomfortable on my skin when I tried my onesie on. I haven't purchased zips from the company in the link – it's there to show you what to look for. I also find that topstitching either side of the zipper tape stops the front from curling and gives a tidy appearance to the opening.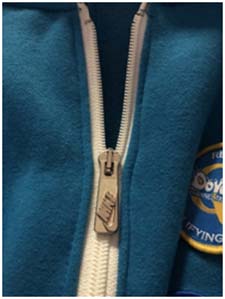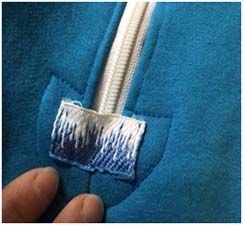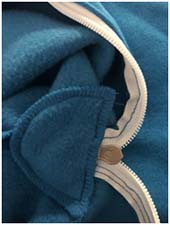 https://www.ebay.co.uk/itm/222827705081?hash=item33e190f2f9:g:ZvoAAOSwyWZZS6Jp
Cloth badges: I am partial to a badge and have collected them from various events and organisations. I sewed these on before constructing the garment i.e., when the pattern pieces were flat. I stitched the trim onto the sleeves flat, then added the badges. Of course, further badges can be stitched on at any time as one never knows when one is going to acquire another splendid cloth patch for display purposes.
https://polarbearchallenges.com/
https://www.lobstersquad.uk/
https://www.doverchanneltraining.com/shop/swim-badges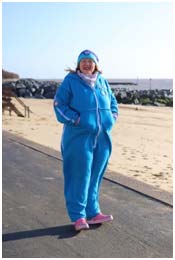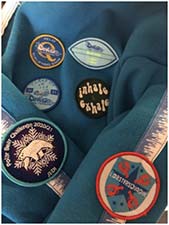 I nearly forgot an important design element of my onesie. As I was keen to have decorative tape down the side of my legs and didn't want to have the in-seam pockets disturbing the line, I opted for kangaroo pockets. Many hoodie/onesie patterns come with a kangaroo pocket pattern but in case you don't have one you can either trace one from an existing garment, add seam allowances and off you go. Or, take an A4 sheet of paper. Fold over one corner, think about how wide you want your pocket to be (you can always place it on your body or compare it to an existing pocket) and decrease the width of the paper to create a pattern. I like to line my pockets. If you also want to do this you will need 2 x pockets in the fashion fabric, 2 x pockets in lining. With right sides together sew around the edge with a 1 cm seam allowance. Leave a 5 cm gap along the bottom edge. Trim the corners and turn the pockets right way out. Press to get nice corners, tack or pin the gap closed. I do like to add top stitching to the part of the pocket the hand slips into. Pin into position on the onesie – much easier once the zip is stitched in. Sew around the edge making sure you reverse stitch at the beginning and end to make it super strong. If you are making an unlined pocket follow these steps. Edge finish the fabric. Press the seam allowances to the wrong side of the fabric. Hem the edge where the hand is inserted. Tack or pin the pocket into position and stitch in place.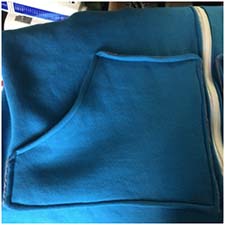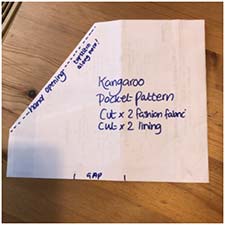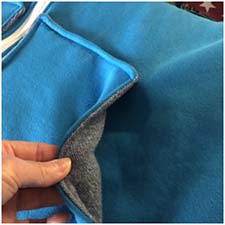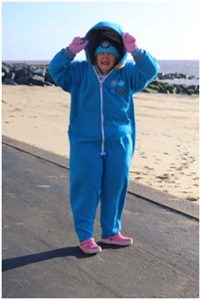 Thank you to my lovely friend Jon Wills for the modelling shoot on the prom xx